Aloevera

Extract / Filtered Juice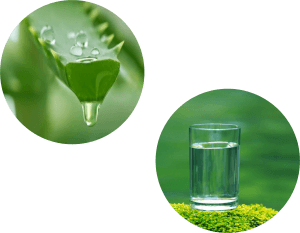 Aloe vera juice is used in many consumer products including Skin lotion, creams, gels and  many more cosmetic products for total skin care.
It treats sunburn: Aloe Vera helps with sunburn through its powerful healing activity at the epithelial level of the skin, a layer of cells that cover the body. It acts as a protective layer on the skin and helps replenish its moisture. Because of its nutritional qualities and antioxidant properties, the skin heals quicker.
It acts as a moisturizer: Aloe moisturizes the skin without giving it a greasy feel, so it`s perfect for anyone with an oily skin complexion. For women who use mineral-based make-up, aloe vera acts as a moisturizer and is great for the face prior to the application to prevents skin drying. For men: Aloe vera gel can be used as an aftershave treatment as its healing properties can treat small cuts caused by shaving.
It treats acne: Aloe is soothing and can reduce skin inflammations, blistering and itchiness, while helping the skin to heal more rapidly. Additionally, in Ayurvedic medicine, Aloe is used to effectively heal chronic skin problems, such as psoriasis, acne and eczema.
It fights aging: As we age, everyone begins to worry about the appearance of fine lines and the loss of elasticity in their skin. Aloe leaves contain a plethora of antioxidants including, beta carotene, vitamin C and E that can help improve the skin's natural firmness and keep the skin hydrated.
It lessens the visibility of stretch marks: The skin is like one big piece of elastic that'll expand and contract as needed to accommodate growth. But if the skin stretches too far, too fast (due to pregnancy, rapid weight gain or loss) the elasticity of the skin can be damaged. That's what leaves those unsightly stretch marks. These marks appear due to minor tears in the layers of the skin caused by sudden and excessive stretching. Aloe vera gel can help hide these stretch marks by healing these wounds.
Bulk Packs of 50 kg / 200 kg in HDPE Food Grade Drums