Aloevera

Cubes / Pulp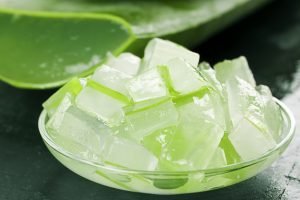 Even with the constant slathering of sunscreen, most people are bound to get a sunburn at least once every summer season. Nothing is worse than red or peeling skin.
In these situations, we offer a great product which is known as Aloevera cubes.   Aloe vera (Barbadensis) is short-stemmed plant which ,stores water in it's own leaves--so it makes a great skin soother and moisturizer while also healing with it's anti-inflammatory and analgesic properties. But there's something even better: Aloe vera ice cubes. The soothing and cooling effect of the frozen aloe vera instantly provides comfort for even the worst of sunburns.
For Healthy and glowing skin: To keep the skin shinny, glowing and healthy, Aloevera  ice cubes can be massaged regularly. It can be used to remove dark spots and scars on the skin.
For Healing Insect Bites:   If you find yourself itching, an Aloevera ice cube temporarily numbs the area and helps control swelling and redness. Wrap in a paper towel and leave on for up to ten minutes.
To Clear Acne: Dealing with an occasional pimple? Aloe vera won't do much for cystic acne but it's definitely effective as a spot treatment. The anti-inflammatory properties reduce swelling and redness which make spots look less noticeable instantly.
To Treat Other Types Of Burns:  It instantly helps soothe, cool, and reduce swelling when Aloe ice cubes are applied on burn wounds.
Alovera Pulp / Cubes (5-8 mm) for Oral Use